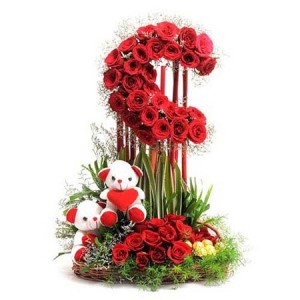 Hyderabad is an important commercial and cultural hub in the south of India. Known to be a happening place, Hyderabad merits the best gifts from Ferns N Petals. Therefore we have the choicest selection of gifts laid out for this exciting destination. Send Christmas gifts to Hyderabad and strengthen your ties with your loved ones.
Choose from our selected array of flowers, cakes, soft toys and chocolates. The perfect combo to gift will fill your day with sunshine and sweetness. It is a bouquet of sunshine yellow roses and black forest cake. It is sumptuous and visually appealing. The Sweet Surprises is a basket of deep red roses contrasted with dracaena leaves which is refreshingly rustic. Colorful Hue is a mixture of the brightest colored roses that will light up your day. Asiatic lilies are a vibrant burst of color that is designed to lift spirits and spread joy. Cradle of best wishes is a cradle made of exotic tropical orchids that is devastatingly pretty.
Roses N Cake is a mixture of sensuous textures and smells which will stop you dead in your tracks. Make up her mood is a mood lifter that will surely make your loved ones smile. Inspiration is an elating arrangement of carnations orchids and roses interspersed with green dracaena leaves. Pink delight will sooth and calm you on a summer day.
Roses N Celebration is an ideal combination of flowers and chocolates to bring in Christmas with a bang. Scarlet Love is a collection of the choicest roses designed to woo you. Colorful Wishes makes a bold splash and will color your world. Red and yellow roses are designed to make a stir.
Make every moment special with a touch of chocolate. Reach out to your friends and family with the Chocolate Nova cake with layers of chocolate and sponge topped with butterscotch.
Roses N Soft Toy is a heart shaped arrangement of the deepest red roses with a white and red teddy in the center. The teddy has a red heart on it that echoes the roses.
Our efficient delivery system will make shopping with Ferns N Petals a breeze. Send Christmas gifts to Hyderabad at the mere touch of a button.