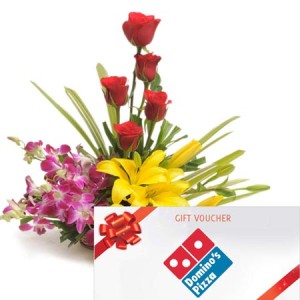 Whatever be the occasion, flowers make the best gifts and invigorate and enrich the senses. Every flower has a unique significance and enhances the festivity of the occasion. When you choose flowers for your loved ones make sure you keep in mind the significance of the occasion. Pick the flowers that are ideally suited for the occasion. Keep this in mind when you Send Flowers to Pune. Flowers to Pune must be occasion specific. The more you customize your floral gift, the greater the impression they will make on the minds of your loved ones.
For birthdays you can play with a wide variety of vibrant colors to make your display special. Bright colors signify a bright future and enhance confidence and motivation. To convey your birthday wishes send a bouquet of yellow and orange roses, carnations, sunflowers, birds of paradise, even daisies, splendidly displayed in a bouquet or glass vase arrangement. You can play with a single monochromatic scheme or different colors in the same variety or a mix of different varieties. Compliment your gift of flowers with a sumptuous cake and make it a really special day. Cakes come in the eggless as well as the traditional varieties in many flavors- Vanilla, Butterscotch, Chocolate truffle and black forest, Pineapple, Strawberry and Cheesecake.
Lets celebrate that special day of love. You don't have to have a special occasion to send flowers to Pune. Convey your heartfelt emotions with a bouquet of red roses or carnations or a vibrant floral arrangement interspersed with chaste white roses. Red and pink are the colors of passion and they will convey the spirit of romance appropriately. There is nothing like a highly fragrant bunch of roses or carnations that exude passion.
To convey the purity of your love and celebrate the bond of togetherness, a chaste bunch of pristine white roses will do the trick. Budding tulips mingled with white lilies convey a spirit of chastity and divinity. For wedding occasions, choose something bold, bright and beautiful. Ravishing red and sunny orange colors would ignite the occasion. To echo the festivity of the occasion, choose a bouquet or an arrangement that is traditional, rather than a sleek and sophisticated contemporary style.
Birthday flowers can be sent by birth month with a little hand written note as to the significance of each variety of flower.
The online stores offer a swift and efficient delivery system which makes it a delight to send flowers online. They have same day and next day delivery and the flowers reach in pristine condition. Flowers to Pune are always a good idea. Send flowers to Pune and convey your deepest sentiments.