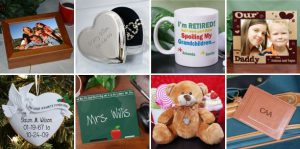 Whatever we do in our daily lives – have you ever questioned why do we do so? In each and every activity of ours, there's a deep desire inside our heart to be remembered by all. Gift giving is also such a thing that makes us memorable in other persons mind. Personalized gifts of this generation is like a blessing which has taken the gifting world into a revolution. It has become like a trend among people to gift something as beautiful as a personalized coffee mug or lamp shade. Much thought is put behind framing these gifts because it is meant to beautify a special moment like birthday, anniversary or a Valentine's Day.
See the implication of these mesmerizing personalized gifts is already known to you. So, today we would discuss the type of personalized gifts for various special occasions like birthday and anniversary:
Birthday personalized gift: Birthdays are the most important day of one's life and therefore the near and dear ones come up with a great gift galore for the sake of the happiness of the birthday boy/girl. When you want to gift a personalized gift to the birthday person, you may inculcate the following tips.
Get a personalized cereal bowl with the first ever picture of the birthday boy/girl and mention the date of birth. You can make it funnier by including a nice birthday quote on this bowl.
Have you ever thought of a style accessory for your girlfriend and that too a personalized one? If not then think about it now. Get a scarf printed for her carrying handwriting of various people who wrote birthday wishes for her. A scarf falls in an everyday style quotient category. And therefore, it would be really a nice gift idea for her.
Create personalized cigarette box by including the picture of the birthday boy/girl in a smoking pose. Make sure that the cigarette box is made with lots of colors.
Anniversary personalized gifts: The anniversary is the time when your mind automatically moves back in those past days of your wedding vows. Various other memories also crowd your mind for sure and therefore personalized gifts are the best for this occasion.
A personalized lampshade carrying the picture of you two in wedding gowns can be presented to your life partner. Just like the work of a lamp shade this person has cleared all the darkness of your life.
Get a personalized quilt this time carrying our pictures from childhood till today and keep the images in the form of a star. The quilt base color has to be a lighter one so that the images come out clearer.
How about a personalized key chain for him? The key that opens all the doors of your house would now be carrying a picture of you two sounds like one of the best personalized gifts.
Apart from the aforementioned ideas, you can keep on exploring online gift shops that come up with various objects to be personalized.