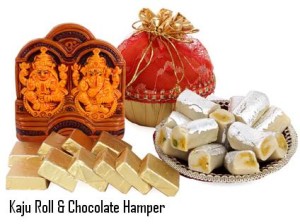 Diwali is celebrated with a passion throughout the country with a n exchange of gifts and Diwali sweets. Diwali sweets are a must have and are considered auspicious on the occasion. They are central to the Laxmi pooja that happens on Diwali and for purposes of gifting and exchanging greetings with friends and relatives. Pooja is a means to rendering the event joyous and auspicious. Pooja Diwali sweets are offered to gods and goddesses to appease them.
The Laxmi pooja is central to the Diwali celebrations. The goddess Laxmi bestows wealth and prosperity. She is the consort to the Lord Vishnu and is the goddess of wealth. The Laxmi Narayan couple is popularly worshipped in the homes of Hindus. Laxmi is worshipped on the amavasya (the dark night) of Diwali. It is widely believed that Laxmi walks through the houses on this night and showers her blessings for prosperity and wealth on the inhabitants who perform the Laxmi Pooja.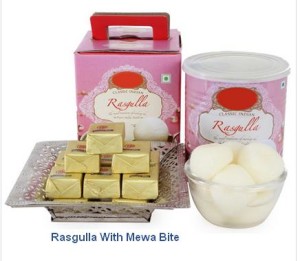 In preparation for the Laxmi pooja the house is cleaned and decorated. It is believed that Laxmi visits the cleanest house before the rest. Lamps are lit everywhere to illuminate the house so she can see her way. The Lord Ganesha is worshipped first as the remover of obstacles to prosperity. This is followed by an elaborate Pooja ritual. Several delicacies are prepared and offered to the Gods. Sweets are especially made and offered to the goddess Laxmi.
The pooja comes to an end after offering  sweets to the goddess Laxmi. Sweets offered to Shri Mahalaxmi must be prepared with a pure consciousness. This appeases her and she in turn bestows bounty on the worshippers. Special sweets are offered to the goddess Laxmi just to please her. It is these sumptuous sweets offered to the gods that make Diwali very special. Sweets are also distributed to near and dear ones along with Diwali greetings.
At Ferns N Petals our Diwali sweets reflect the cultural richness of the festival. The Laxmi Ganesha soan papdi is just right for the Diwali pooja and to distribute later to friends and relatives. Assorted sweets consist of kaju barfi, anjeer barfi, besan laddu, and doda barfi. The gift comes beautifully packed and is sure to make a lasting impression.
The Deepavali pooja thali includes one kalash in the center, two attractive containers of roli chawal, thread moli along with a silver diya and lots of kaju katli. Pista barfi and idols is again a beautiful package containing delicious Pista barfi along with artistic divinity idols. Chocolaty tray with Almighty is a collection of fine chocolates with divinity idols.
Make this Diwali a resounding success by sending Diwali sweets to all from Ferns N Petals.