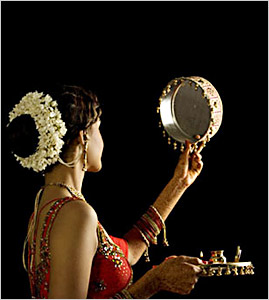 Nothing fascinates a Hindu married women more than the words "Karwa Chauth". Mostly celebrated in the North Western part of India, this is one of the popular one-day fasting festivals.
This was all what I knew about Karwa Chauth, when my loving wife told me that she will be going to celebrate it this year. It was her first ever Karwa Chauth and therefore the level of her excitement could not be matched up with anything else. On top of this, she was a Bengali and thus everyone in her family was totally unaware of this day's rituals.
Her preparations started one month before Karwa Chauth. From new saree and jewelry to puja thali, she shopped for every little thing, the way she shopped for our marriage. Finally, the day came and she woke up as early as 4 in the morning to have her pre-dawn mean called 'Sargi', which my mom cooked for her.
Throughout the day she fasted for me, with a wide smile on her face despite of feeling hungry and thirsty. In the evening when I came back home, she opened the door with sparkling eyes. Dressed up in a beautiful pink saree, jewelry and make-up, she made me go wow in just one glance. What made her more attractive was her eyes that were filled with unfading happiness and love.
I was actually a non-believer of all these fasting festivals, but my wife's love, excitement and commitment made that day a special one for me too.
We, as a husband, tend to consider Karwa Chauth a pain or duty rather than a festival. Isn't it what you also believe? Come on guys, atleast for one day we can keep our beliefs aside and appreciate the efforts of our wives and add upon their happiness with a desirable gift. With Ferns N Petals, you don't even need to walk out of your homes or offices to buy thoughtful gifts for your wives.